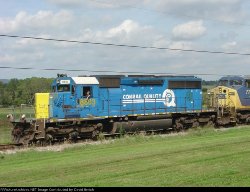 Welcome to the RRPictureArchives.NET contributor site of D Brnich.



Welcome to my railroad photo albums. I hope you enjoy your visit. Call me crazy or just a little strange, but I was introduced to trains while visiting my grandmother Bubba's house in Brownfield, PA. While our families (aunts, uncles, and cousins) ate in shifts, my uncle Mike would sit at a chair near the window and say, "Train's coming." This would be at least 5 minutes before they would pass. He knew the whistles (horn blows) and knew exactly where they were. We would run down to the tracks and put pennies on it to have the weight of the train smooth the coins to 1/32nd inch. In this small western Pennsylvania "coal patch" village, mainly coal trains passed by and we always got a wave from the crew. Both the Pennsylvania RR and the B & O RR had tracks through Brownfield PA which made up part of the "West Penn System".

I moved to central Pennsylvania when I was four and remember the Penn Central running a small section of track just outside of Mechanicsburg. This is not indicated on the map, but for those of you who know where Trindle Road and Terranetti's Bakery is, this is where the tracks were. At most, they moved 6 cars at one time along this section.

Today, the tracks have been torn up near my Bubba's house and those that the Penn Central ran just west of Mechanicsburg. I will never forget these times with my family and growing up.

Today, I live where tracks run through my front yard (that's why there's so many pictures from "Smiths Station."). I believe the original tracks were placed by the Western Maryland Railroad and now they are part of the CSX Hanover (PA) Sub-division. There is a siding too where CSX leaves cars for York Railway to pick up and move to York. If needed, this provides intermodal transfer between CSX and NS.

Believe it or not, I get up everytime the train comes by just to see what and/or who is coming by. And yes, my house feels the power from the locomotives. You never know what you will see and I try to capture the images and hopefully some unique items from this little known area of south central Pennsylvania. Thank you.



You may browse my collection of pictures via the menu located on the left hand side of the page. I hope you enjoy the collection and thanks for stopping by!